(cool) Hector wrote:
Don't you know that Coollector can also keep track of the episodes/seasons that you've watched? If you go to the series and you click on the number of episodes, you'll see the list of all the episodes, with their name, air date, IMDb rating, popularity and link. You can rate the episodes/seasons that you've seen and after that the program will display that you've seen for example 22/46 episodes. Personally I rate only a season when it's finished, but you can also rate episode by episode.
Yeah I know about that. But
TV Show Tracker UTP
give a lot more control on the series management.
Such as
Which episode to watch next
No. of episode left to see
Sorts all the episodes of all the series I have according to calendar
Shows me completion percentage
Upcoming episodes with notification
total number of episodes I watched today (along with a histogram)
Attachment:
File comment: HOME :
Owned TV Series, Along with sorted list. Also shows which episode to watch next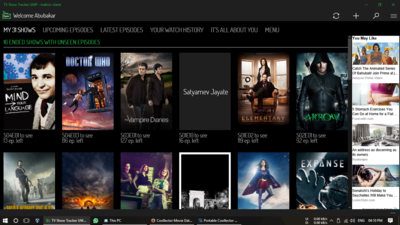 Screenshot (34).png [ 1.02 MiB | Viewed 5954 times ]
Attachment:
Attachment:
File comment: Series in depth, shows all the episode list and to mark them as watched.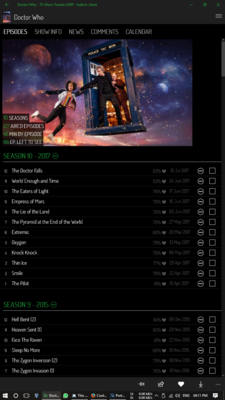 Screenshot (36).png [ 523.88 KiB | Viewed 5954 times ]
If these features were in Coolector then I would have not used this tracker app.
Well I will suggest you to try this app once and if you could implement those function in Coollector OR Make a new software for series management then it would be really awesome.